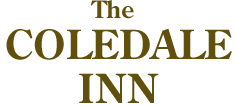 Rosthwaite & Watendlath
Allow: 4 hours
All walk times allow for a leisurely pace and pauses to admire the scenery.
This walk involves a climb, so sturdy footwear is advised. The webmaster has taken many 10 year old children along this route and it is well within their capabilities.
Rosthwaite is accessible from Mary Mount by the Borrowdale Bus. One can stock up at the Village Store and Post Office with those things you forgot before following the path by Hazel Bank rising to the east of the village. After a while there is a gate in the stone wall on the left but keep going on upwards until the top of the rise where the path levels out.
The hamlet of Watendlath soon comes in to view below. Hugh Walpole set his novel Judith Paris here. This is an excellent place to stop for a cup of tea and jam scones with cream!
FROM "THE WISE KINGS OF BORROWDALE"
Watendlath's quiet nook.
A farm is there, and a slated barn,
And a waterfall, and a pebbly tarn;
And all the way to High Lodore
The banks of the beck are painted o'er
With red herb-willow and red loose-strife.
Edmund Casson
Suitably refreshed, one can continue by going back over the packhorse bridge but instead of following the road, take the path the other side of the stream. This gently descends through this hanging valley. When you come to a wooden footbridge you have a choice of descending to Lodore and Mary Mount direct, or...
...a more pleasant route is to take the Keswick option, which brings you back to the road and Surprise View with its famous view over Derwentwater...
...and then to Ashness Bridge which has featured on innumerable confectionery boxes and calendars. Just beyond this is a small stone memorial to Bob Graham.
At the foot of the road be careful crossing the main Borrowdale Road and climb down the steps to the landing stage to catch your "clockwise" launch back to Mary Mount.
Back to the Things To Do page.
Route Images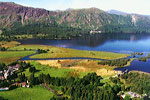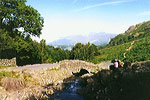 Click on any of the images above to view it's larger version plus caption.
OTHER WALK IDEAS
You may also like to try: