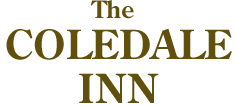 Hawse End to Lodore Landings
Allow: 2 hours 30 minutes
All walk times allow for a leisurely pace and pauses to admire the scenery.
Derwentwater's most popular walk, combining a lakeside walk with the chance of a good meal and a spectacular waterfall.
Take the launch to Hawse End (the 10-20 a.m. "Clockwise" service from Lodore Pier is a good one after a leisurely breakfast).
From Hawse End jetty turn left and follow the lakeside path through Brandelhowe Park, a varied area of woodland, fields and delightful lakeshore habitats, until you pass two large gravel banks. Take the narrow road that leads into the woods and turn left at Warren House.
After a number of little wooden boardwalks (invaluable in wet weather) the path stops at a gate in a dry stone wall, from here you can see the raised wooden walkway.
Follow the walkway, cross the "Chinese Bridge", and walk onto the Borrowdale road. Take a left turn and you will soon arrive at the Lodore Hotel, behind which are the Lodore Falls.
Opposite the hotel is a track leading down to the waters edge and ferry pick up point. Half way down the track you can see the Mary Mount Hotel through the trees where you may enjoy an excellent and deserved cup of tea.
Back to the Things To Do page.
Route Images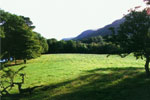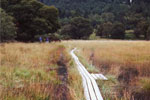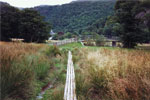 Click on any of the images above to view it's larger version plus caption.
OTHER WALK IDEAS
You may also like to try: